The first step when creating your giveaway is to include important and required information, such as your giveaway title, description, rules/terms & conditions and when you'd like your giveaway to start/finish.
When creating your giveaway, you'll be presented with the following options under the "Details" tab: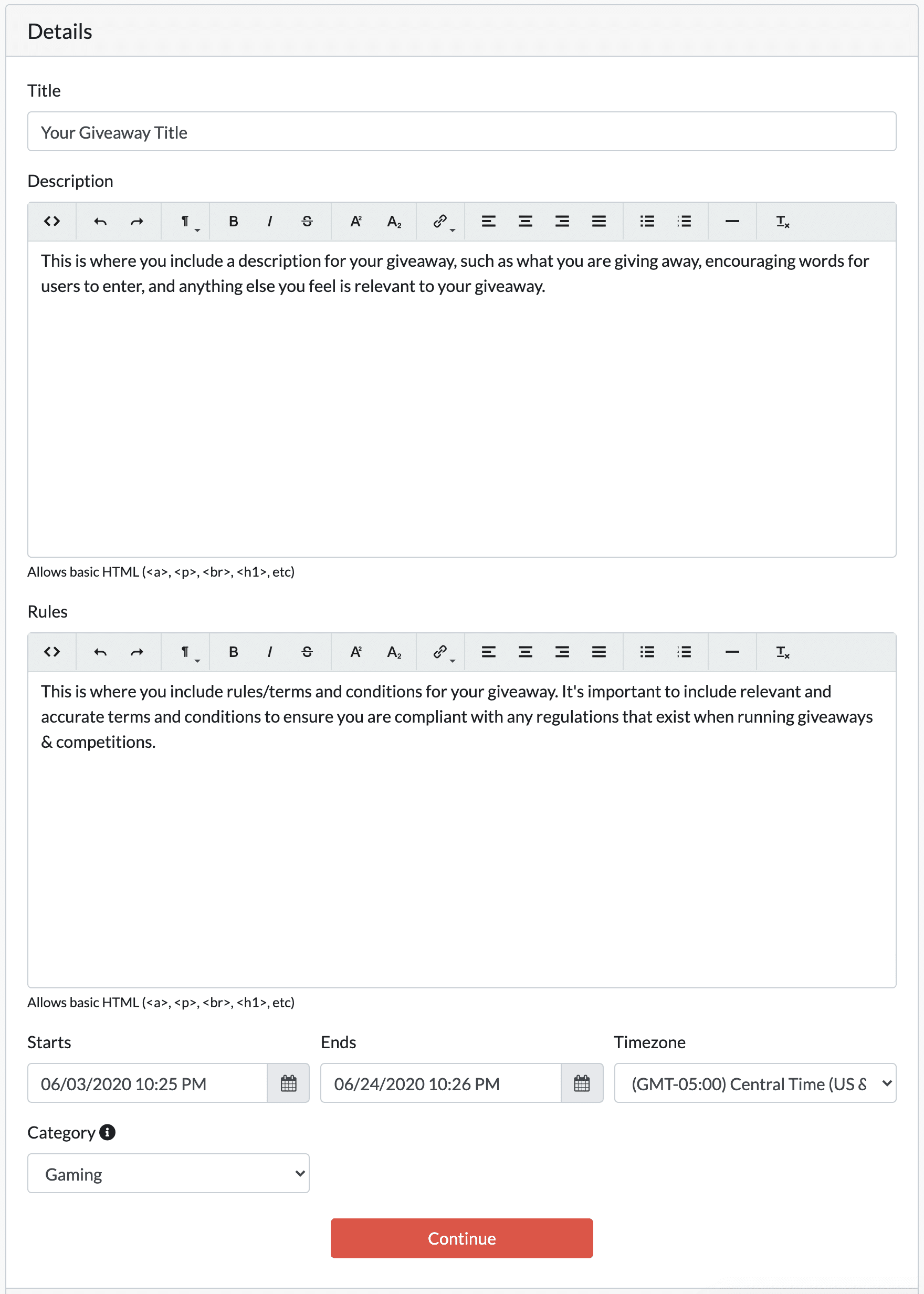 ---
Configuration Options
Title
Enter the title of the giveaway you are looking to create. This should be relevant to the prize you are looking to give away, for example: Win a brand new Apple HomePod.
Description
This is where you include a description for your giveaway, such as what you are giving away, encouraging words for users to enter, and anything else you feel is relevant to your giveaway.
Rules
This is where you include rules/terms and conditions for your giveaway. It's important to include relevant and accurate terms and conditions to ensure you are compliant with any regulations that exist when running giveaways & competitions.
Starts / Ends / Timezone
Choose when you want your giveaway to start and end. The start date/time can either be the very same time you are creating the giveaway if you want to start it immediately, or you can set a date/time in the future. The end date/time can be any period that takes place after the start date.
If you set a date/time in the future, your giveaway will not accept entries until the start time is reached, however the giveaway will still be viewable.
Once your giveaway has received 1 or more entry, you will no longer be able to change the start date on your giveaway.
There is no restrictions to how short/long your giveaway can run.
Set a timezone which is accurate to your own country, or the country of your target demographic entering the giveaway.
Category
Select a category that most accurately matches the type of prize/industry your giveaway relates to.
Now you have completed the Details tab, it's time to add your entry steps. Continue to the guide here.